Virginia Human Resources Career and Degree Outlook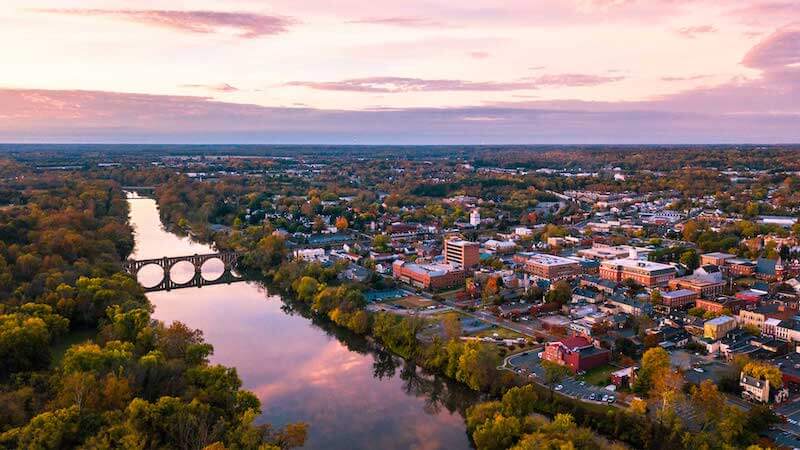 Virginia has a well-balanced economy that comes from a variety of sources, from peanut farming and cattle to military installations, shipbuilding and tobacco. The U.S. News & World Report ranks Virginia as the 7th Best State overall. It's also ranked 9th for opportunity and 25th for the economy. With so many industries and an unemployment rate of only 3%, many businesses are increasing their workforce, which increases the need for highly trained human resources professionals.
Human Resources Salary Information for Virginia
Human resources professionals in Virginia earn wages higher than what is earned by HR professionals in other states. As of May 2018, human resources managers in Virginia earned from $82,680 to $204,910 with the average annual wage at $140,110 according to the U.S. Bureau of Labor Statistics. Human resources specialists in Virginia earned an average annual wage of $75,120 with wages ranging from $40,560 to $117,310. HR managers nationwide earned $126,700, and HR specialists earned $66,790, both amounts below what was earned in Virginia.
Education Requirements for Human Resources Professionals
Education requirements for human resources professionals depend on the employer and the type of human resource position a candidate hopes to obtain. Some employers may require their human resources managers have a master's degree while others will hire an HR manager with only a bachelor's degree. Human resources managers are usually the ones who oversee HR specialists and HR assistants, so they need the highest level of training. If the bachelor's degree holder has several years of experience working in human resources, that may be sufficient.
Human resources specialists do much of the same work as HR managers but work under the supervision of the HR manager. The HR specialists usually have a bachelor's degree but may be hired with an associate degree if they have sufficient work experience in this field. Human resources programs offer courses in employee benefits and compensation; employment laws; OSHA regulations; insurance benefits; and training employees. Some employers may also require their HR professionals have certification through the Human Resource Certification Institute.
Largest Employers of HR Professionals in Virginia
Virginia is a state with many different industries and businesses. There are more than 1,000 companies with more than 100 employees, so it's safe to assume this is also a state in need of qualified human resources professionals. Here are the ten largest employers of HR professionals in Virginia.
US Army – 500,000 employees
Hilton Hotels & Resorts – 169,000
Dollar Tree – 116,050
General Dynamics – 98,800
Northrop Grumman – 67,000
Brink's – 60,510
DXC Technology – 59,000
Advance Auto Parts – 57,500
Smithfield Foods – 50,236
Capital One – 49,900
Human Resources Associations in Virginia
Human resources professionals can have degrees and years of training and still be in need of continuing education or information regarding changes and new trends in the human resources industry. Joining human resources associations is a great way to keep up with what's going on with human resources and a great way to network with and get to know other HR professionals throughout the state. Here are several human resources associations in Virginia.
Hampton Roads Society for Human Resource Management
International Public Management
Human Resources Research Organization
Human Resources, Inc.
Society for Human Resources Management (SHRM)
Virginia Department Human Resources Management
HR Global Organization
Human Resources Programs in Virginia
Marymount University – Arlington, VA
Program name: Master of Arts in Human Resource Management
The master's degree program in human resource management is a 36-credit program that offers students flexible classes during the evening and weekends. Students can choose between four tracks: analytics, coaching, talent development and coaching development. During the final semester, students complete a project as part of the practicum course. Courses include human resource management, HR selection and recruitment, total pay perspective, leading and managing teams, and employment law. Students can also take this program with an HR graduate certificate.
Regent University – Virginia Beach, VA
Program name: Bachelor of Science in Human Resource Management
The B.S. in human resource management program at Regent University is an online program that students can complete in less than the traditional four years. Course topics include labor relations; employment and recruitment; compensation and benefits; employment laws; ethical behavior; and the employee life cycle. Graduates are prepared to take the HRCI certification exam.
Virginia Commonwealth University – Richmond, VA
Program name: Bachelor of Science in Human Resource Management
The human resource management undergraduate program requires students to complete at least 120 credits, which must consist of general education courses, business foundation courses, and human resource management courses. Courses might include legal environment of business; financial management; human resources management; compensation management; staffing organizations; and managing people in organizations. Upon graduation, students are prepared to take the HR Certification Institute exam and to seek work in human resource management in both the private and public sector. VCU also offers a minor in human resource management.
University of Richmond – Richmond, VA
Program name: Master of Human Resource Management
The master's in human resource management, offered through UR's School of Professional & Continuing Studies, requires completion of 30 semester hours of graduate courses but does not require a thesis. Students are in small classes taught by experienced adjunct professors and have a lot of hands-on practical learning.
Course topics include human resource management; recruitment and retention; labor relations; HRM in the global environment; legal issues in HRM; and compensation and benefits. Students also attend seminars and complete an internship. The University of Richmond also offers a Bachelor of Science in Professional Studies Human Resource Management and a graduate certificate in human resources management.
University of Lynchburg – Lynchburg, VA
Program name: Bachelor of Arts in Human Resource Management
The undergraduate human resource management program at the University of Lynchburg requires completion of 124 credits, and the courses must be a combination of business core courses, general education courses and major-related courses. Students complete courses in hiring and staffing; compensation and benefits; employee relations; training and development; and human resource management. Students also participate in events at the Lynchburg student SHRM chapter. During the final semester, the students complete an internship in a human resource department of an approved industry.
Sources:
https://www.bls.gov/oes/current/oes113121.htm
https://www.bls.gov/ooh/business-and-financial/human-resources-specialists.htm
https://www.bls.gov/ooh/management/human-resources-managers.htm