Vermont Human Resources Career and Degree Outlook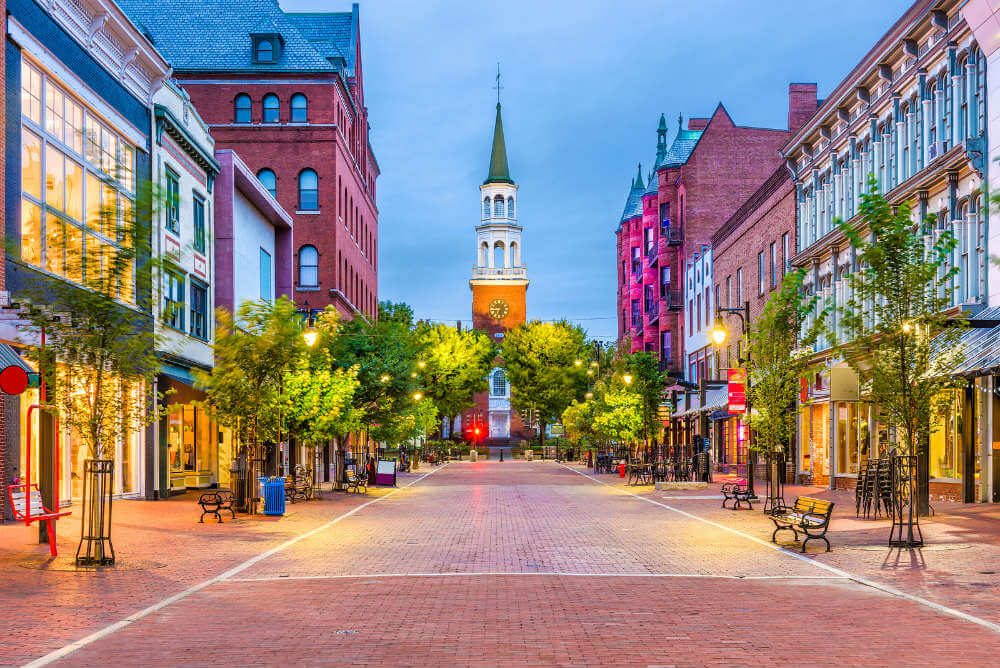 Vermont has the smallest economy in the United States but also one of the lowest unemployment rates. When we think of Vermont, what often comes to mind is thick maple syrup and delicious ice cream. However, Vermont does have many other growing industries, and they all need human resources professionals to help them find and keep employees happy and productive.
Human Resources Salary Information for Vermont
Based on a May 2018 report by the U.S. Bureau of Labor Statistics (BLS), the wages earned by human resources professionals in Vermont are lower than what was earned by human resource professionals across the nation. Human resources managers earned an average annual wage of $103,500, and human resources specialists earned an average of $59,200.
The national average for these two professions was $126,700 and $66,790, respectively. Wages can vary for these professionals depending on their work experience, level of education, actual employer and geographic locations. HR manager wages in Vermont actually ranged from $57,220 to $156,870, and HR specialist wages in Vermont ranged from $32,570 to $90,740.
Education Requirements for Human Resources Professionals
Candidates interested in working as human resource managers are usually required to have a degree and several years of work experience. The degree level required depends a lot on the employer. For some employers, a bachelor's degree may be sufficient while others may require a master's degree. The degree should typically be in human resources, human resources management, business administration, with an emphasis in human resources or related field.
These programs offer courses related not just to human resources but business administration in general. They also prepare the student to take the certification exam through the Society of Human Resources Management (SHRM). Human resources specialists usually have a bachelor's degree in human resources or human resource management as well as some experience working in an HR environment.
An applicant may be hired as an HR specialist with an associate's degree in human resources if he or she has several years of experience working in human resources, customer service, labor relations or a similar position. Upon graduating from an HR management program, many aspiring HR professionals choose to obtain certification.
Certification may or may not be required depending on the employer. WorldatWork, the Society for Human Resource Management, International Foundation of Employee Benefit Plans, and the HR Certification Institute all offer HR certification exams to eligible candidates. Eligibility requirements usually include earning the degree and having sufficient work experience.
Largest Employers of HR Professionals in Vermont
Despite being a small state, Vermont is a state with quite a few excellent businesses. In 2016, several Vermont businesses earned the Best Places to Work in Vermont award, a designation created by the Vermont Department of Labor, Vermont Human Resources Association and Vermont State Council, among others. Here are some of the largest employers in Vermont that may utilize HR professionals.
University of Vermont – 5,380 employees
State of Vermont – 3,670
Bruegger's – 2,400
Casella Waste Systems – 2,000
Killington Resort – 1,500
Stratton Mountain – 1,500
Mack Group – 1,400
HUBER +SUHNER – 1,250
PC Construction – 1,200
GW Plastics – 1,000
Human Resources Associations in Vermont
Vermont has several human resources associations located throughout the state. Joining an HR association is a great way to keep up with what's going on in the human resources world. They also give HR professionals the chance to network with other HR professionals in other cities and states.
Vermont Human Resources Association
Green Mountain Human Resources Association, Inc.
River Valley Human Resources Association
Vermont Human Resources Association HR 101
National Human Resources Association
Human Resources Programs in Vermont
Vermont has several colleges and universities offering human resources programs, including certificates, bachelor's degrees and master's degree programs. Students often have the option of choosing an on-campus or an online program.
Champlain College – Burlington, VT
Program name: Master of Science in Human Relations & Organization Development
The human relations and organization development master's degree program is a 100% online program that can be started at six different times throughout the year. It offers concentrations in employment law, positive organization development and leadership. Courses include legal aspects of human resources; employment law; labor law; employment discrimination; foundations of positive organizational change; and leadership competencies and core values. This 30-credit program can be completed in 10 months. The school also offers an online MBA program with a certificate in human relations and organization development.
Castleton University – Castleton, VT
Program name: Advanced Graduate Certificate in Leading Organizational Change
The 21-credit graduate certificate in leading organizational change can be completed in a year. It can be used independently or added to the MBA program also offered at Castleton University. Course topics in the program include business analytics; leadership theory; operations management for leaders; human resource management; and leading organizational change.
The college also offers internship opportunities to students in the human resource management programs.
Northern Vermont University – Lyndonville, VT
Program name: Bachelor of Science in Business Administration with Concentration in Management
This undergraduate program serves two purposes: preparing students for graduate studies and providing them with knowledge to run and organize a business. This 60-credit program takes about four years to complete. Course topics in this program include human resource management; business law; organizational behavior and management; leadership in business; business software and spreadsheets; and global business. Students completing this program have the option of earning and MBA with only one year of study.
University of Vermont – Burlington, VT
Program name: Bachelor of Science in Business Administration
This undergraduate program may not offer a concentration in human resources or human resources management but offers the courses and training required to work as a human resource professional. An interdisciplinary program that offers specialized study in the areas of sustainable business, entrepreneurship, or global business, this program has the curriculum necessary to prepare aspiring HR professionals for work in this field. It also offers concentrations in business analytics, marketing, finance and accounting. There are also several large industries in the area that offer internships to students in this program.