Utah Human Resources Career and Degree Outlook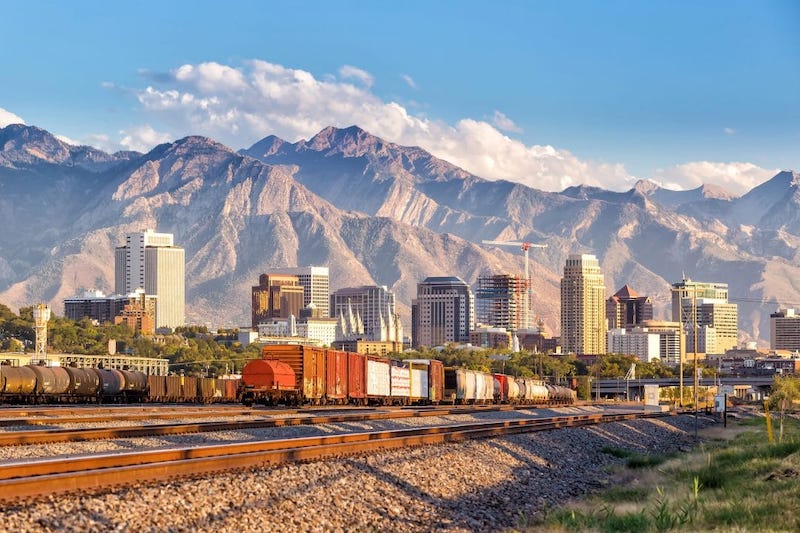 Utah's economy has been one of the fastest growing in the nation in recent years with the state's economy doing very well. This state has consistently been ranked as one of the country's fastest-growing economies and also boasts of having one of the lowest unemployment rates. With the state so economically robust, Utah industries are always on the lookout for good employees, which increases the need for qualified human resources professionals to recruit and train new employees to improve the company's growth.
Human Resources Salary Information for Utah
The U.S. Bureau of Labor Statistics (BLS) reports that human resources specialists in Utah earned wages ranging from $31,380 to $90,650 annually with the average annual wage at $56,960. This amount is lower than $66,790, which is the wage earned by HR specialists nationwide. Human resources managers in Utah earned from $58,220 to $159,130. Their average annual wage of $104,440 is substantially lower than the national average of $126,700. This wage report is as of May 2018. There are approximately 1,340 HR managers and 6,030 HR specialists employed in Utah.
Education Requirements for Human Resources Professionals
Human resources managers and human resources specialists are expected to have a degree in human resources or a related field. Many employers want their HR managers to have a master's degree but will hire a candidate with a bachelor's degree and several years of work experience. Many want their HR managers to have at least five years of experience. Human resources specialists often have bachelor's degrees as well. If the individual has sufficient and relevant work experience, he or she may be hired with an associate degree but may need to return for more education later.
Degree majors are usually in human resources management, business management or business administration with a concentration in human resources. In addition to earning the required degree, HR professionals may obtain certification from several agencies, including the HR Certification Institute and local Society of Human Resources Management groups.
Largest Employers of HR Professionals in Utah
Adding to Utah's growing economy are several large industries consistently growing and adding to its workforce. Here are some of the largest employers of HR professionals in Utah along with the number of employees at each company.
Autoliv– 66,000 employees
Frito-Lay – 50,000
Intermountain Healthcare – 37,467
Nu Skin Enterprises – 32,250
Skywest Airlines– 16,900
Smith's Food & Drug Store – 16,059
Alsco – 16,000
Zions Ban – 10,057
Management & Training – 9,300
C.R. England – 9,076
Human Resources Associations in Utah
There are other ways an HR professional can be an asset to an HR department beyond just having a degree and obtaining as much work experience as possible. Joining a human resources association can help HR professionals stay abreast with all the latest HR technologies and trends. It also offers networking opportunities for HR professionals where they can find employment opportunities and much more. Below is a list of some human resources associations Utah HR professionals may find extremely beneficial to join.
Utah SHRM
Human Resources Programs in Utah
Human Resource Association of Central Utah
Salt Lake City SHRM
Color County Human Resources Association
Intermountain Compensation & Benefits Association
Utah Department of Human Resource Management
Human Resources Programs in Utah
Brigham Young University Provo – Provo, Utah
Program name: Bachelor of Science in Human Resources Management
The BS in Human Resources Management program is a limited-enrollment program with only 40 students accepted each year. Students must complete 64-67 credit hours for this degree. Course topics include organizational effectiveness; managerial leadership development; human resource management; organizational development and change; career development; and compensation, benefits and performance management. Students are also given HR projects to demonstrate what they've learned in the program.
Columbia College – Murray, Utah
Program Name: Master of Business Administration with a Concentration in Human Resources Management
The MBA in Human Resources Management is a graduate program that offers a curriculum based on both theory and practice. To earn the degree, students must complete at least 36 semester hours, which must include common core and foundation courses. Major-related courses may include legal and ethical environment for business; federal income tax; compensation and benefits; human resource management and theory; recruitment, selection and placement; managerial accounting; organizational training and development; and business communication. This program provides students with the skills and knowledge necessary to work as human resources professionals and also prepares them to take HR certification exams.
Program Name: Bachelor of Science in Human Resources Management
The B.S. in human resources management program requires students complete at least 120 semester hours and must complete a designated number of lower and upper-level courses during the first couple of semesters as well as 60 semester hours of business courses. During the final semester, the student must complete a strategic management project. Major-related courses for the HR management degree include business ethics; business law; human resource management; human resource development; compensation and benefits systems; labor relations; and organizational business.
LDS Business College – Salt Lake City, Utah
Program name: Human Resources Management Certificate
The human resources management certificate program is for individuals interested in pursuing a career working in human resources. It can be taken as a stand-alone certificate or as an enhancement to a human resources management associate degree program. Students must complete 16 credits. Courses in this program include training and development; compensation and benefits; recruitment and selection; human resource management; and employment law. When students complete this program, they're prepared to take the Human Resource Certification Institute certification exam.
Utah State University
Program name: Master of Human Resources
The Master of Human Resources offered at Utah State University is a full-time on-campus program that can be completed in four semesters. Students complete courses like labor and employee relations; current HR issues; talent acquisition and retention; human resource analytics; negotiation and mediation; total rewards and employee performance; and human resource policy and strategy. At the end of the program, students must complete an internship. USU offers students a dual degree option where they can pursue both the MHR and an MBA.