Tennessee Human Resources Career and Degree Outlook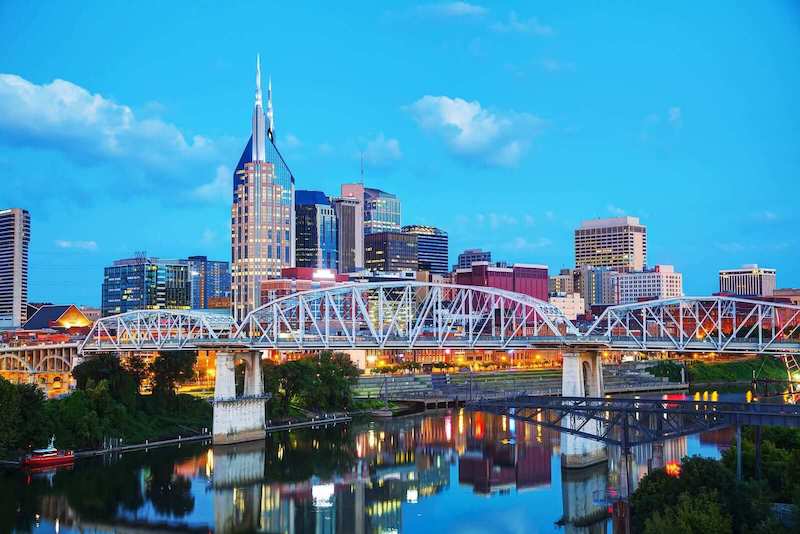 Tennessee's economy is made up mostly of industry, and since the industries have been steadily growing, the state's economy has been growing as well. When the economy is growing, companies are on the market for new employees to complete their workforce, and human resources professionals are needed to help find the best and train their employees. Tennessee offers a lot for aspiring human resources professionals in the way of careers and degree programs.
Human Resources Salary Information for Tennessee
Wages for human resources professionals in Tennessee are slightly lower than the national averages. The U.S. Department of Labor states that HR managers in Tennessee earned an average yearly wage of $99,310 with those in the lowest 10% making $49,830, and the top 90% earning $159,330 as of May 2018. Tennessee human resource specialists in the lower 10% earned $31,230 while the upper 90% earned $94,030. Their mean wage was $58,700.
Education Requirements for Human Resources Professionals
There are specific education requirements to become and work as human resources professionals. Human resources managers must have at least a bachelor's degree; however, some companies may require their HR managers possess a master's degree. The degree is usually in human resources, business or business administration with a concentration in human resources management. These programs are offered both on campus and online at many colleges.
Human resources specialists usually have a bachelor's degree as well. They may be hired with only an associate's degree if they have at least several years of experience working human resources or a related field. Work experience is a very valuable commodity in the field of human resources. Graduates of human resources programs may also obtain certification. The Human Resources Certification Institute, WorldatWork, the Society for Human Resource Management and the International Foundation of Employee Benefit Plans all offer certification for human resources professionals.
Largest Employers of HR Professionals in Tennessee
Tennessee has many industries and businesses that are large not just in size but also in terms of the number of employees. Large companies generally need more human resources to keep a good and productive workforce.
FedEx– 357,000 employees
HCA – 210,500
Dollar General – 121,000
Community Health Systems – 108,000
Cracker Barrel – 73,000
AutoZone – 66,780
Brookdale Senior Living – 63,850
International Paper – 55,000
Envision Healthcare – 54,650
LifePoint Health – 47,000
Human Resources Associations in Tennessee
Here are some human resources associations in Tennessee for HR professionals to join. These associations offer news, job postings and valuable information to HR professionals. HR professionals can network with HR managers and specialists in the state as well as in other states. Information on obtaining continuing education is also available through many of these associations.
Oak Ridge Human Resource Association
College and University Professional Association for Human Resources
EAST Tennessee Human Resource Agency
Mid Cumberland Human Resource (several branches statewide)
Southeast Tennessee Human Resource Agency (several branches statewide)
Upper Cumberland Human Resource Agency
South Central Human Resource Agency
XMI Human Resources
Human Resources Programs in Tennessee
Several colleges and universities in Tennessee offer human resource programs to students interested in pursuing careers in human resources. There are various bachelor's degree programs, master's degree programs, certificate programs offered on campus and online. The curriculum in these programs prepares students to work as human resource professionals and also prepares them to sit for certification exams.
Austin Peay State University – Clarksville, TN
Program name: Master of Science in Management
The master's degree program in management is an online program open to anyone with a bachelor's degree. The program offers fast-track courses that are online and completed in eight-week blocks. Depending on the student's commitment, the program can be completed in one to two years; full-time students can earn the degree in one year. This program prepares students to work in management in various industries and capacities, including human resource management, risk management; project management; healthcare management and international finance.
Bethel University – McKenzie, TN
Program name: Bachelor of Arts in Business with Human Resource Management Emphasis
This undergraduate business program takes four years to complete and requires 122-129 credits. It offers two different human resource management options. In addition to completing all the required coursework, students participate in seminars and lectures. An internship in an HR business environment is also part of the program's requirements. Courses in the program include principles of management; human resource management; business law; strategic management; compensation; and principles of business.
University of Tennessee – Knoxville, TN
Program name: Master of Human Resources Management
The master's degree program in human resources management is a 33-credit program that offers students many flexible options to make earning the degree easy, including online courses, evening classes and weekend classes. Depending on if the student goes part-time or full-time, it can be finished in one to three years. Course topics include strategic leadership; human resource management; organizational behavior and development; business fundamentals; reward management; and employment laws.
Lipscomb University – Nashville, TN
Program name: Bachelor of Business Administration with Human Resource Management concentration
College Choice ranked the human resource management program at Lipscomb University as one of the nation's best. This competitive program requires students to take business core, general core and concentration courses so students get a balanced education. Courses include compensation and benefits; training and development; human resource management; recruitment, legal aspects of a business; selection and retention; and organizational behavior. Students are also required to complete an internship during the final semester.
East Tennessee State University – Johnson City, TN
Program name: Bachelor of Business Administration with Human Resource Management concentration
East Tennessee State University's BBA program requires completing 120 credits of courses that include general education, concentration-based courses, electives and business courses. Course topics include human resource management; organizational theory and development; training and development; collective bargaining; compensation management; labor relations; and planning and staffing. The HRM certification course prepares students to take the Human Resource Certification Institute exam. Full-time students can earn a degree in 4 years.
Sources:
https://www.bls.gov/oes/current/oes131071.htm
https://www.bls.gov/oes/current/oes113121.htm
https://www.bls.gov/ooh/business-and-financial/human-resources-specialists.htm
https://www.bls.gov/ooh/management/human-resources-managers.htm