Human Resources Career and Degree Outlook in Rhode Island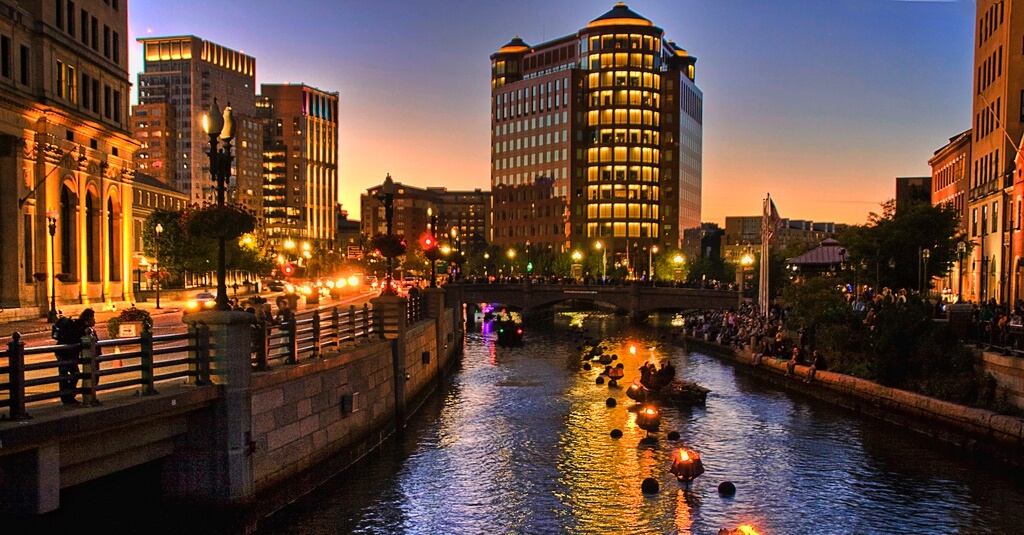 Rhode Island is the smallest state in the U.S. but is a beautiful state that has a lot to offer. When we think of Rhode Island, large delicious lobsters often come to mind, but there is a lot more to Rhode Island than just seafood. Despite its small size, Rhode Island has many prosperous industries including cyber and data analytics, biomedicine, advanced business services, defense shipbuilding, and manufacturing. Their tourism and transportation industries are also booming. With all this activity and economic growth, the need for qualified human resources professionals continues to grow as well. Aspiring human resources professionals can earn degrees in human resources at a few different colleges in Rhode Island.
Human Resources Salary Information for Rhode Island
Human resources professionals working in Rhode Island typically earn wages substantially higher than the national average as reported by the U.S. Bureau of Labor Statistics as of May 2018. Human resources managers in Rhode Island earned average annual wages of $154,460 with wages ranging from $89,870 to $179,890. Human resource managers across the nation earned average annual wages of $126,700.
Human resources specialists in Rhode Island earned wages ranging from $45,580 to $106,010 with their average annual wage at $72,960. The national average wage for human resources specialists was $66,790. Where or who you work for, your geographic location, your degree, and work experience can all play a role in determining wage potential. It's apparent that Rhode Island is a lucrative state for human resource professionals to work.
Education Requirements for Human Resources Professionals
Human resources professionals should have at least a bachelor's degree depending on the position. Human resources specialists may be hired with an associate's degree but often have a bachelor's degree. Human resources managers usually have a bachelor's degree, but some companies require a master's degree. Employers may accept a lesser degree if the HR applicant has extensive experience working in human resources, labor and relations or even customer service.
The education major chosen by aspiring human resources professionals is usually a major in human relations or a major in business administration with a concentration in human resources management. Many colleges also offer human resources programs through distance learning. These programs are popular for individuals who are already working in an HR department and are trying to advance their education and pursue a higher position. There are also a few different organizations that offer human resources certifications.
Largest Employers of HR Professionals in Rhode Island
It can easily be said that Rhode Island is a state small in size but large in terms of industries and businesses. Here are ten of the largest employers in need of human resources professionals in Rhode Island.
CVS Health – 204,000 employees
Textron – 36,000
Citizens Bank – 17,300
APC by Schneider Electric – 12,000
Nortek – 11,400
United Natural Foods – 9,554
Rhode Island Hospital – 7,274
Hasbro – 5,400
FM Global – 5,170
University of Rhode Island – 4,830
Human Resources Associations in Rhode Island
Human Resources Division
Resources for Human Development
Providence VA Human Resources Office
The Association for Healthcare Human Resources Administration of Rhode Island
Rhode Island SHRM
Human Resources Programs in Rhode Island
Johnson & Wales University – Providence, RI
Program name: Master of Science in Human Resources Management
The master's degree in human resources management program is offered online and at the Providence campus. This two-year program is broken into eight-week courses. Instructors with many years of experience working in human resources teach the courses. Applicants with a GPA of 2.85 or higher are not required to take the GMA exam.
Students will complete courses in organizational change management; human resource metrics and statistical research; organizational behavior; strategic recruiting, retentions and succession; compensation and benefits; labor and employee relations; and human resource management.
During the final semester, students will complete a human resource management capstone where they have to research and develop a strategic HR plan for an organization. Upon graduation from either of the HR management programs at Johnson & Wales University, graduates are prepared to sit for global and national human resource certification exams.
Johnson & Wales University – Online
Program name: Master of Public Administration in Human Resources Management
The same HR-experienced instructors as the on-campus MS in HR management program teach this online program. The curriculum provides students with the skills and knowledge necessary to work in a managerial position in the human resources department of an organization. This program, also consisting of eight-week courses, can be completed in two years, although online students can take less or more time to complete the degree.
Courses in this program include research and inquiry; program evaluation; effective leadership; public policy analysis; labor and employee relations; business information and decision-making; financial management; and human resources management.
Salve Regina University – Newport, RI
Program name: Certificate in Human Resources Management
The HR management certificate program at Salve Regina University is ideal for students who want to pursue graduate studies but do not wish to earn a master's degree or possibly can't fit it into their busy schedules. This certificate program consists of four courses offering 12 credits. Courses in this program are social justice and business ethics; organizational transformation and change; human resources management; business ethics; and creative problem-solving. This program is available at the Newport campus, online or as a hybrid program.
University of Rhode Island – Kingston, RI
Program name: Master of Science in Labor Relations and Human Resources
The labor relations and human resources master's degree program is a multidisciplinary program that prepares students to work in human resources and labor relation positions. This 36-credit program consists of 12 courses, seven of which are electives and five required. The Labor Relations and Human Resources course must be completed at the beginning of the program, and the Professional Seminar in Labor Relations and Human Resources is taken at the end of the program.
Additional courses include organizational behavior; work, employment and society; employment and labor law; labor relations and collective bargaining; staffing organizations; business of benefits; and negotiation and dispute resolution. Students also attend business seminars and complete an internship in a human resources environment.
Sources:
https://www.bls.gov/oes/current/oes131071.htm