Pennsylvania Human Resources Career and Degree Outlook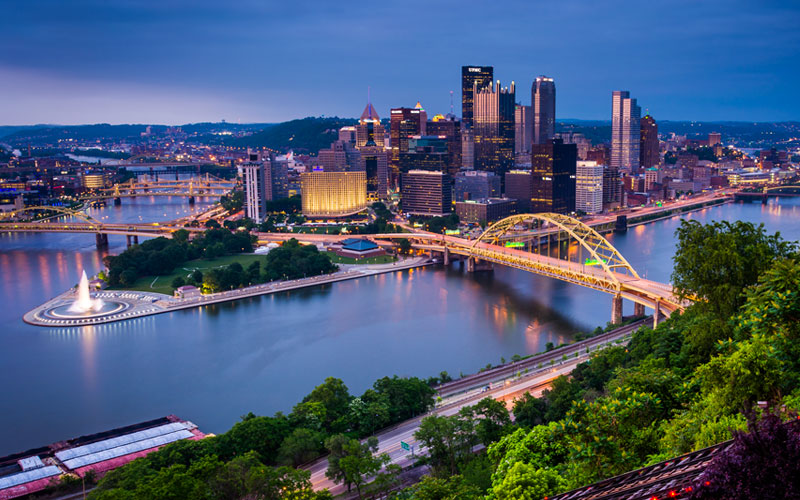 Pennsylvania is a great contributor to the nation's economy with its large production of milk, livestock, steel and numerous other important products. It is also a state plentiful in jobs and employment. With economy picking up as it has in recent years, more companies are increasing their workforce, which increases the need for qualified human resources professionals.
Human Resources Salary Information for Pennsylvania
The wages earned by human resources professionals in Pennsylvania are slightly higher than wages earned by human resources professionals across the nation. As of May 2018, human resources managers in Pennsylvania earned average annual wages of $130,260, which is slightly higher than the $126,700 earned by HR managers nationwide. Human resources specialists earned about $67,370, which is also higher than the $66,790 earned by HR specialists nationwide. This data came from the U.S. Bureau of Labor Statistics (BLS).
Education Requirements for Human Resources Professionals
Human resources managers typically require a master's degree in human resources, although, they may be hired with a bachelor's degree if they have sufficient work experience. They may also complete a master's in finance, business management or business administration with a concentration in human resources or human resources management.
It's also important for HR managers to understand employment laws and be knowledgeable of human resources software, ethical hiring practices, and compensation and benefits plans. Many HR managers also choose to obtain voluntary certification.
Organizations offering HR certifications include HR Certification Institute and Society for Human Resource Management, as well as some other organizations. Eligibility for certification may vary but typically requires completing an HR degree program, having relevant work experience and passing a certification exam.
Human resources specialists are usually required to have a bachelor's degree in human resources or a bachelor's in business management or business administration with an emphasis on human resources management. HR specialists may be hired with only an associate degree if they've had several years of experience working in a human resources department, in customer service, labor relations or something similar. HR specialists may also apply to take certification exams.
Largest Employers of HR Professionals in Pennsylvania
With so many industries in Pennsylvania, it's not surprising that there are more than 1,675 companies that have more than 1,000 employees. Here are the ten largest employers of companies with HR professionals on staff.
Aramark – 217,250 employees
Comcast – 159,000
Keystone Foods – 110,000
Ricoh – 97,800
Genesis HealthCare – 82,000
Universal Health Services – 70,863
Rite Aid – 70,430
Alcoa – 60,000
UPMC– 53,171
PNC – 50,683
Human Resources Associations in Pennsylvania
Pennsylvania offers various HR associations in which HR professionals can become members. These associations are beneficial to members as learning tools and ways to network with other HR professionals near and far.
Pennsylvania State Council of SHRM
Chester County Human Resources Association
Pittsburgh Human Resources Association
HR Management Association of North Central PA
Southeastern Pennsylvania SHRM
Westmoreland Human Resources Association
Society of Healthcare Human Resources Professionals of Pennsylvania
Human Resources Master's Degree Programs in Pennsylvania
According to the National Center for Education Statistics, Pennsylvania has more than 75 colleges and universities that offer human resources programs. They offer master's, bachelor's, a combination of both as well as online HR programs. Here are is a list of Pennsylvania schools offering human resources programs.
Villanova University – Villanova, PA
Program name: Master of Science in Human Resource Development
This graduate program can be completed 100% online in as little as 18 months. Students have 27/7 access to classrooms so they can get and hand in assignments at their convenience. Despite being an online program, this program offers the same on-campus experience and instructors as on-campus programs. This program offers concentrations in leadership, HR business partner, organization development, and HR analytics and research. Graduates are prepared to take the HR Certificate Institution certification exam.
University of Scranton – Scranton, PA
Program name: Master of Science in Human Resources
The master's degree in human resources program is a 33-credit online program that teaches students about organizational concepts and human resources practices and discusses practical issues in today's workforce. Forbes ranked the University of Scranton as one America's best value colleges. In addition to completing coursework, students must also complete a capstone course. Course topics include organizational change; organizational behavior and leadership; employee and labor relations; ethics in human resources; recruitment and staffing; and total rewards.
Saint Joseph's University – Philadelphia, PA
Program name: Master of Science in Strategic Human Resource Management
The MS program at SJU is an online program that can be completed in two years or less. It helps students obtain experience in organizational development, be competent in a human resource position and propel their business into the competitive marketplace. The curriculum complies with that set by the Society of Human Resource Management. This program is flexible enough to allow students to also work while earning the degree. Course topics include managing workforce flow; ethical practices in business; human resource technology; employment and labor law; and talent selection and retention.
Gannon University – Erie, PA
Program name: Master of Business Administration with Concentration in Human Resource Management
This two-year program provides students with the qualifications needed to work in a managerial position in a human resources department. Students enrolling in this 30-48-credit program can also get credit for relevant work experience they may have obtained. This program is also available online. Course topics include employee relations and labor law; human resource management; strategic management; managerial accounting; and leadership and business ethics.
West Chester University of Pennsylvania – West Chester, PA
Program name: Master of Science in Human Resources Management
The 30-credit graduate program at WCUP is offered in a 100% online format and can be completed in less than two years. Students can attend full-time, part-time or even one course at a time. The courses are offered over a seven-week period. With the exception of having to meet weekly deadlines on some exams and assignments, student can complete the classwork at their own pace. Course topics include employment law and labor relations; effective leadership; compensation analysis; HR information systems and analysis; training and organizational development; and employee health in the workplace.
Sources:
https://www.bls.gov/oes/current/oes131071.htm
https://www.bls.gov/oes/current/oes113121.htm