Oklahoma Human Resources Career and Degree Outlook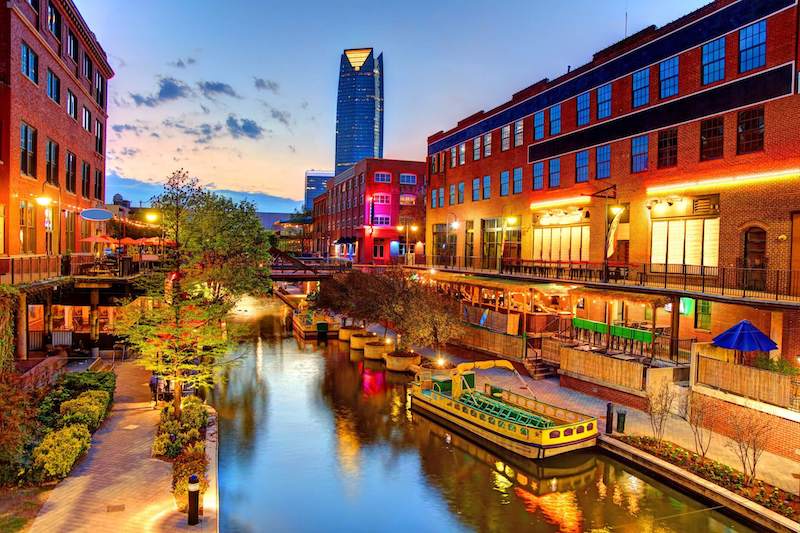 Oklahoma's economy is ranked 29th in the nation. While it may not be on top of the pack, they have many large important industries that keep them busy, including agriculture, bioscience, fertilizer manufacturing, food manufacturing and commodity productions. It may not be the most affluent state, but it was ranked the 15th best place to live by a popular tourist site. It's also a state rich in human resources professionals as well as colleges offering training programs for this career.
Human Resources Salary Information for Oklahoma
Human resources managers nationwide earned an average annual wage of $126,700 as of May 2018 as reported by the U.S. Bureau of Labor Statistics. This is substantially higher than the $98,610 earned by human resources managers in Oklahoma, although, their wages ranged from $55,220 to $157,590.
Human resources specialists in Oklahoma earned annual wages from $30,320 to $86,750. Their average annual wage of $54,940 was also lower than the $66,790 that was earned by human resources specialists across the nation. The employer, the location, the degree level, work experience and certifications earned, can affect wage potential.
Education Requirements for Human Resources Professionals
To work as a human resource professional requires a degree and several years of work experience in this field. The degree that's required is usually determined by the position required. Human resources managers, who typically are in charge of a human resources department, must have at least a bachelor's degree in human resource management or business administration with a concentration in human resources management. Some employers may require a master's degree and certification. A few different organizations offer certification, but the Human Resources Certification Institute is the most common.
Human resources specialists should also have a bachelor's degree in human resources management, they may be hired with an associate's degree if they have several years of relevant work experience. Relevant experience might be working in human resources, labor relations or customer service. Although HR specialists work under the supervision of an HR manager, their duties are often very similar. Working as an HR specialist is often sufficient work experience to be hired as an HR manager.
Largest Employers of HR Professionals in Oklahoma
Oklahoma is a state with many employers taking care of the many industries. Each of these industries offer opportunities for human resources professionals. Here are the largest employers of HR professionals in Oklahoma.
Express Employment Professionals – 500,002 employees
Hobby Lobby – 30,218
State of Oklahoma – 21,310
QuikTrip – 19,700
Accord Human Resources – 13,000
Love's Travel Stops & Country Stores – 11,391
Sonic Drive-In – 9,620
MidFirst Bank – 8,700
Saint Francis Health System – 8,200
University of Oklahoma – 7,780
Human Resources Associations in Oklahoma
There are several human resources associations for Oklahoma human resources professionals to join. Once they're members of these associations, they can network with other professionals like themselves. These associations also offer HR professionals the opportunities to find HR job openings and information on the latest HR trends and laws. Here are some popular human resources associations in Oklahoma.
Oklahoma City Human Resources Society
Central Oklahoma Human Resource Association
Tulsa Area Human Resource Association
OKHR State Council
Society for Human Resource Management
Human Resources Programs in Oklahoma
Oklahoma State University – Stillwater, OK
Program name: Bachelor of Science in Business Administration with Human Resource Management concentration
The BSBA in human resource management requires completion of 120 credit hours. These hours must be divided amount lower-level, upper-level, business courses, general education and major-related courses. This 4-year program provides students with the skills and knowledge needed to seek work as a human resource professional. Courses in this program include strategic management; managing business and organizations; human resource management; total rewards; talent development; negotiation essentials; and managing diversity in the workplace.
University of Oklahoma – Norman, OK
Program name: Master of Arts in Organizational Dynamics – Human Resource Management
The master's degree program at the University of Oklahoma is a 36-credit hour program that offers a thesis or a non-thesis option. Applicants must have an undergraduate degree to enroll in this program. This program teaches students not just about working in human resource management but also how to run and operate an organization. Course topics in this program include information technology management; organizational behavior, change and development; human resource management systems; job analysis methods; performance management; staffing selection and compensation; and teams and motivation.
Oklahoma Christian University – Oklahoma City, OK
Program name: Master of Business Administration with Human Resources track
The MBA program at OCU is offered both on campus and online. It offers nine different track options, including one in human resources. Even when studying just a couple days a week, students can earn the MBA degree in a year. If the bachelor's degree an applicant has is not in business, they'll be required to complete an extra course. Major-related courses include human resources management; organizational development; compensation and benefits; quality assurance and control; risk management; and team and group leadership.
Oral Roberts University – Tulsa, OK
Program name: Bachelor of Science in Human Resource Management
The B.S. in human resource management at ORU is an online or on-campus program that requires completing 120 credit hours. Of these courses, they must be 30 cognate courses; 30 major-related courses; 57 general education courses and 3 electives. Graduates of this program are qualified to work as human resources managers, human resources specialists, employee benefits managers, job analysts and more. Some of the courses HR students take include strategic management; business law; compensation and benefits; conflict resolution; human resource management; and business administration. Students complete internships and attend seminars and lectures as part of the program requirements.
Northeastern State University – Tahlequah, OK
Program name: Bachelor of Business Administration in Human Resource Management
The BBA in human resource management program is a four-year program that provides students with the skills and expertise needed to run a human resource department and hold a managerial position in a business setting. The students learn in a business-like environment and are required to run the organization and demonstrate their knowledge. Course topics include business strategies and policies; human resource management; management and team skills; negotiation and labor issues; strategic staffing; and compensation management.