New Hampshire Human Resources Career and Degree Outlook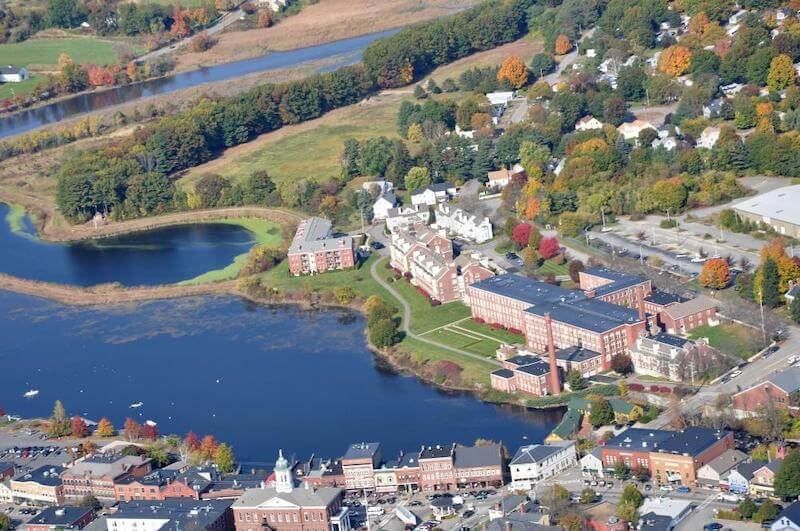 The economy in New Hampshire has been strong in the past couple of years. A contributing factor to the growing economy is the expansion surrounding metropolitan. Boston Unemployment has decreased, and wages have increased. This strong economy has resulted in companies hiring new employees, which also increases the demand for more human resources professionals to keep the workforce productive.
Human Resources Salary Information for New Hampshire
The salaries for human resources professionals in New Hampshire can vary according to the U.S. Bureau of Labor Statistics (BLS). Employer, geographic location, training, experience and degree level can all affect an individual's wages. New Hampshire HR specialists in the lowest 10% earned about $36,240 while those in the upper 90% earned about $97,680.
The average annual wages for New Hampshire human resources specialists as of May 2018 was $63,960. New Hampshire HR managers in the lowest 10% earned about $71,060 while those in the top 90% earned about $193,270. Their average annual wage was $125,800.
Education Requirements for Human Resources Professionals
Human resources professionals must have a degree in human resources to work in an HR department. The degrees may range from an associate degree to a master's degree. Human resources managers may be hired with just a bachelor's degree, but many employers may require a master's degree. Human resources specialists generally also have a bachelor's degree but may be hired with an associate degree if the candidate has experience working in an HR department.
In addition to completing the degree program, the HR professional should also be familiar with human resources software. They should also have knowledge of OSHA laws, benefits and compensation packages, and employment laws. HR specialists perform many of the same duties as HR managers, only the HR managers oversee the work performed by HR specialists. HR professionals also have the option to obtain certification through human resources organizations.
Largest Employers of HR Professionals in New Hampshire
Despite New Hampshire being a small state, it's a state with many growing businesses. Here are the ten largest employers in New Hampshire that might hire human resources professionals.
• C&S Wholesale Grocers – 17,000 employees
• Ocean Properties – 5,800
• Keene State College – 5,749
• Standex International – 5,500
• University of New Hampshire – 5,320
• Dartmouth College – 4,880
• Mt Corp – 4,463
• Albany International – 4,400
• C&S Careers – 3,140
• Anvil International –3,130
Human Resources Associations in New Hampshire
Several human resources associations are located throughout the state. HR professionals can join one or several of the associations to gain more information on the HR business, follow up on new HR trends and regulations, and even find employment opportunities in the HR field. These associations also allow HR professionals to network with others in their profession.
• Greater Merrimack Valley Human Resources Association
• National Human Resources Association
• Manchester Area Human Resources Association
• HR State Council of New Hampshire
• Greater Nashua Human Resources Association
• Human Resources Association Greater Concord NH
Human Resources Programs in New Hampshire
Franklin Pierce University – Rindge, NH
Program name: Master of Business Administration in Human Resource Management
This two-year graduate program is open to applicants with a bachelor's degree program and a GPA of at least 2.8. Students complete courses in financial management; organizational behavior; legal and ethical issues in organizations; labor relations and employment laws; compensation and benefits; and human resources management. A seminar is also part of the program requirements.
This is the only MBA in HR management program in the state that meets all the curriculum requirements for human resources education as determined by the Society for Human Resource Management (SHRM). It not only is in alignment with the SHRM's curriculum guidelines, but it also qualifies students to take the SHRM-CP examination. Students who cannot or are not interested in completing a graduate program can earn a human resources management certificate, which is an online program.
Granite State College – Concord, NH
Program name: Bachelor of Science in Human Resource Administration
The bachelor's degree program at Granite State College is a 120-credit program that generally takes about four years to complete. Students must complete upper-level courses, lower-level courses and general education courses. Major-related courses include organizational behavior; leadership; workplace coaching; human resource administration; human resources and the law; legal and ethical issues in business management; and managing conflict.
New England College – Henniker, NH
Program name: 3+2 Human Resource Management Degree Programs
New England College has a couple of different options available for candidates interested in a career in human resources. The 3+2 program allows students to complete two programs all within five years. They can earn a Bachelor of Science in Human Resource Management while also completing one of two tracks; an MBA with an emphasis in Human Resource Management or a Master of Science in Human Resource Management. The MBA program is a 100% online program that can be completed in only 20 months. The Bachelor of Science program is also an online program.
Because some employers may require HR managers have a bachelor's degree while others may require a master's degree, this program covers both areas. New England College students also have the option of completing any of those programs individually. Students taking the 3+2 program are required to complete fewer credits than if they'd taken the programs individually.
Course topics include talent acquisition and talent management; compensation and benefits; managerial accounting; information systems in HR management; employee relations; and performance management.
.
Southern New Hampshire University – Manchester, NH
Program name: Master of Science in Human Resource Management
The human resource management master's degree program at SNHU is an online program that allows students to work and gain experience while earning a graduate degree in human resource management. This program can be completed in 15 months with the student completing just two courses every ten-week term.
Students complete courses in human resource information systems; law, ethics and politics in human resources; total rewards; leading change; talent development and workforce planning; strategic human resource management; and negotiation in the workforce. They're also required to complete a capstone course in human resource management.
Sources:
https://www.bls.gov/oes/current/oes131071.htm
https://www.bls.gov/ooh/management/human-resources-managers.htm
https://nces.ed.gov/collegenavigator/?s=WI