Human Resources Career and Salary Outlook in Minnesota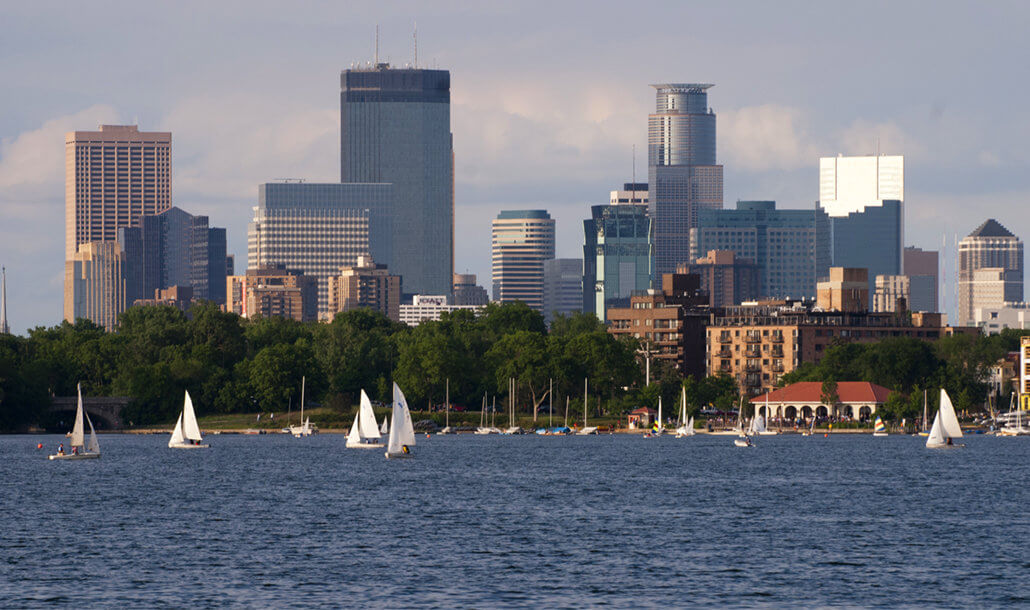 If you asked Minnesotans how they felt about their state, they'd probably tell you it was one of the
greatest places in the nation
to work, live and raise a family. In 2018, Minnesota was ranked No. 2 in the U.S. News & World Report's Best State Overall Ranking. Minnesota was also ranked No. 2 for the quality of life, No. 3 for opportunity, No. 6 for infrastructure and No. 7 for healthcare. Minnesota's economy was ranked No. 20 among 50 states. With Minnesota being such a great state, you can bet it's a state where people want to work, and where there is work there is also qualified human resources professionals helping businesses hire just the right people.
Overview
Human resources (HR) professionals can be found in almost every business or company. It may be one person manning an entire HR department or a fully-staffed human resources department that consists of a human resources manager and several human resources specialists and also human resources assistants. Almost every employee, at one time or another, may have had a question at work and been told, "talk to HR about it". HR plays an important role within a company and have many job duties.
Handling staffing problems that include mediation or disciplinary issues
Create and oversee the company's employee benefit program
Handle and disperse payroll
Coordinate the company's workforce get the use of the employee's strengths
Handling the recruiting, interviewing and hiring of new employees
Consulting with other managers on HR issues
Supervise the work of support staff and specialists
Look for ways to attract new employees
Approving pay raises and promotions
Developing employee training programs
Human Resources Salary Information for Minnesota
A May 2017 report by the U.S. Bureau of Labor Statistics (BLS) indicates that human resources managers and human resources specialists earned wages slightly lower than the national average. Despite this, HR professionals still earn very good wages as is indicated by the numbers listed below.
Average human resources manager wages in Minnesota- $121,530
Average human resources manager wages nationwide – $123,510
Range of wages for human resources managers in Minnesota – $66,840 to $191,350
Range of wages for human resources managers nationwide – $65,040 to $197,720
Average human resources specialist wages in Minnesota- $64,140
Average human resources specialist wages nationwide – $66,220
Range of wages for human resources specialists in Minnesota – $35,810 to $103,570
Range of wages for human resources specialists nationwide – $38,690 to $96,480
Various factors can affect the wages paid to human resources professionals, such as education, training, experience, type of employer and location. Here are some average wages earned by human resources managers in different cities in Minnesota. These figures come from a September 2018 report by Salary.com.
Roosevelt – $86,563
Vesta – $89,648
Winona – $91,626
Franklin – $92,432
Wabasha – $96,556
Brownton – $99,460
Rockford – $102,352
Castle Rock – $105,248
Minneapolis – 107,397
Education Requirements
Both human resources managers and human resources specialists should have at least a bachelor's degree in human resources, finance, business administration, labor relations, business management or a related field, which takes four years to complete. Some human resources managers in high-level positions have master's degree. Master's degrees take an additional two years to finish. Students in the HR program complete coursework and an internship in an HR department to obtain real-world experience.
Human resources professionals are not required to be certified, but many employers prefer to have their HR managers certified. Certification not only beefs up a resume but also demonstrates commitment and knowledge to potential employers. To be eligible to obtain the certification, the candidate must have a degree in human resources and relevant work experience. To obtain a certification, the candidate must pass a certification exam. Human resources professionals have a variety of certifications they can obtain from different certifying bodies.
International Foundation of Employee Benefit Plans
HR Certification Institute
WorldatWork
Society for Human Resource Management
Job Prospects for This State
As of May 2017, there were about 4,350 human resources managers and 12,910 human resources specialists employed in Minnesota. The BLS predicts that human resources managers and human resources specialists are expected to see an employment growth of 8.1% and 5.4% between 2016 and 2026. Although this growth is slightly less than the national average, it should still result in about 360 new human resources manager positions and 700 new human resources positions created by 2026.
As more people move to this popular state, there will be even more jobs, which should increase the need for human resources professionals. Indeed.com has more than 950 job postings for human resources managers as of September 2018. The highest number of HR managers and HR specialists working in Minnesota are in the Minneapolis-St. Paul – Bloomington, MN metropolitan region, which employs 3,560 human resources managers and 9,960 human resources specialists as of May 2017.
Largest Employers of HR Professionals for Minnesota
With Minnesota's highly-ranked economy and its status of being one of the best states in which to live, it's understandable that there would be many great places to work. This state has several large businesses that utilize the services of qualified human resources professionals. Here are some of the largest companies in Minnesota along with the number of employees.
Target – 323,000 employees
UnitedHealth Group – 230,000 employees
Country Inns & Suites by Carlson– 175,000 employees
Cargill – 150,000 employees
Best Buy – 125,000 employees
3M- 91,584 employees
Coustic-Glo International Ceiling Maintenance – 72,500 employees
U.S. Bank – 71,191 employees
Mayo Clinic – 63,000 employees
Associations for Minnesota
There are various associations a Minnesota human resources professional may join to stay abreast of current HR trends, learn of new job opportunities and network with other HR professionals around the world. Here are some associations in Minnesota.
Twin City Society for Human Resources
Central Minnesota Society of Human Resource Management
Rochester Human Resources Association
Minnesota Counties Human Resources Management Association
Northland Human Resource Association
Healthcare Human Resources Association of Minnesota
Lake Area Human Resource Association
Sources
https://www1.salary.com/MN/Human-Resources-Manager-salary.html